(THREAT'S VANISHING CARBON x STARFIRE'S SCARLET LADY)
Pretty 15.1 hand, bay Tennessee Walking Horse mare, with white on both hind fetlocks, a star and a sweet disposition. Very nice, ground-eating gait. Started under saddle.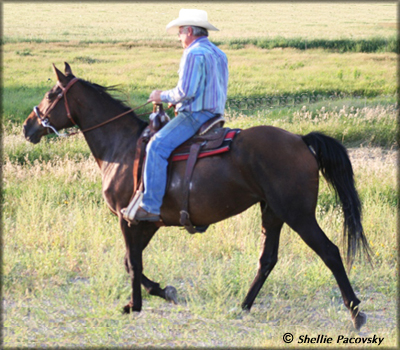 She is broke under saddle but needs a little refresher as she hasnít been ridden since last summer. Mark did ride her last summer. Mark will start riding her again as soon as the weather breaks. She has a really nice running walk and she covers the ground quickly.
Mark and Lady on their first ride this year.
She likes people and will come to you to see what you might have for her whether out in the pasture or in the corral.
We are going to breed her this spring and see what kind of foal we will get. She can be bred to any of the three stallions.
Mark and Lady working cattle.
Almost A Lady started her refresher under saddle working cows. She had not been ridden since last summer and we threw something new at her. We don't think she has ever worked cows before but she did pretty well. She is not afraid of the cows at all, likes the calves and even had one walk underneath her belly. Lady learned very quickly what we wanted done and was willing to give anything a try. Lady does not seem spooky at all and takes most things in stride. She will make someone a great horse.


US FUNDS
Overseas transport can be arranged.


Reference horses courtesy of

The Ancestor Gallery
THREAT'S
VANISHING CARBON
SHADES MAGICIAN

SHADES OF CARBON G. L.

GLL'S CARBON COPY

SIR MAU'S MISTY MAID
MAGIC'S ANN L. M.

SUN'S BLACK MAGIC L. M.

SUN'S ANN
GUNSMOKES MIDNIGHT THREAT
BLUE GUNSMOKE
MIDNITE PLEASURE, JR.
GUNSMOKE'S DOLL
MERRY TRIP-A-THREAT
LITTLE THREAT
MISCHIEF'S MARIE
ALMOST A LADY #20206986
SEX: Mare COLOR: Bay MARKINGS: On both hind fetlocks, star. FOALED: 04/06/2002
STARFIRE'S
SCARLET LADY
DOLL'S STARFIRE
CARIBOU'S SPIT FIRE
MERRY GO RAMBLER
BEAUTY'S CHEYENNE
DAKOTA MAUD STAR
DAPPER DAN L.
DAKOTA JENNIE
CARA'S GOLDEN QUEEN
DAKOTA MIDNIGHT
EBONY'S REFLECTION M.
MILLER'S CHOICE
CARA MIA
ZEPHYR'S GOLD PRIDE
FLASH'S STONE DIXIE


iPeds Production
01/06/11

Horse No: 20206986 ALMOST A LADY

Horse No.
Name
Sx
Bl
DN
Foal
Horse #
Name
20902478
WEARING RED STILETTOS
M
N
N
4/27/2009
975563
FANTASY'S LIMITED EDITION

21200457

SCW LEGEND OF GUNSMOKE

G
N
P
5/09/2012
900539

BACK

Last Updated: June 27, 2017