(

BLUE GOLD

x NUGGET'S COLORADO KATHY)
15.1 hand, buckskin Tennessee Walking Horse mare. Foaled 05/28/2002.
Goldie, wow, what a gait! At liberty out in the pasture, in hand or under saddle and she passes it onto her foals. We purchased Arrow's Colorado Gold as a two-year-old from Arrow's Walkers in Colorado. We like her gait, her pedigree (which has some Calvin Miller horses) and her color.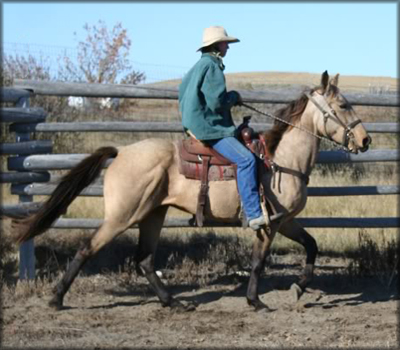 US FUNDS
Overseas transport can be arranged.


Reference horses courtesy of

The Ancestor Gallery


iPeds Production
01/11/11 10:28:09

Horse No: 20212432 ARROWS COLORADO GOLD

Horse No.
Name
Sx
Bl
DN
Foal
Horse No.
Name

20410794

ARROW'S PRAIRIE MOON LIZ

M
Y
Y
6/09/2004
20014693

ARROWS
GOLDEN FLASH

20801151

SCW JUBALS ONYX DIVA

M
N
Y
4/21/2008
917961

SLUSH CREEKS
JUBAL S

20900367

SCW FLAGAN S

S
N
Y
5/01/2009
917961

SLUSH CREEKS
JUBAL S

21200459

SCW LEGEND OF BLUE GOLD

M
N
P
5/02/2012
900539

BACK

Last Updated: December 27, 2016